I love visiting schools, libraries, festivals, book fairs, and book clubs . . .
The only thing more fun than writing is meeting fellow writers and readers. I was a reluctant reader as a teen, and a timely intervention by my middle school librarian is a major reason I'm a writer today. I'm committed to sharing my passion for both reading and the craft of writing, from developing ideas and outlining, to revising and editing. Writing isn't just for authors, after all. It's about communication and self-expression.
Most of my visits are for grades 3-12, and I always tailor the presentation to the specific audience. All I need is a projector and a screen, a bottle of water, and a packet of Haribo Happy Cola (optional) and I'm ready to roll!
COST:
$1500 per day, all inclusive. This covers all travel, hotel, meals, and any possibly ill-advised snacks I might pick up en route. To set up a visit, please email me or use the contact form.
Too much for your budget? Don't despair—please contact me and propose your ideal author visit. We'll see what we can work out.
BONUS STUFF:
· $250 discount per day for multi-day visits.
· Visits can be split between two or more schools, time-permitting.
· I can help organize book sales (and sign books for students during the visit.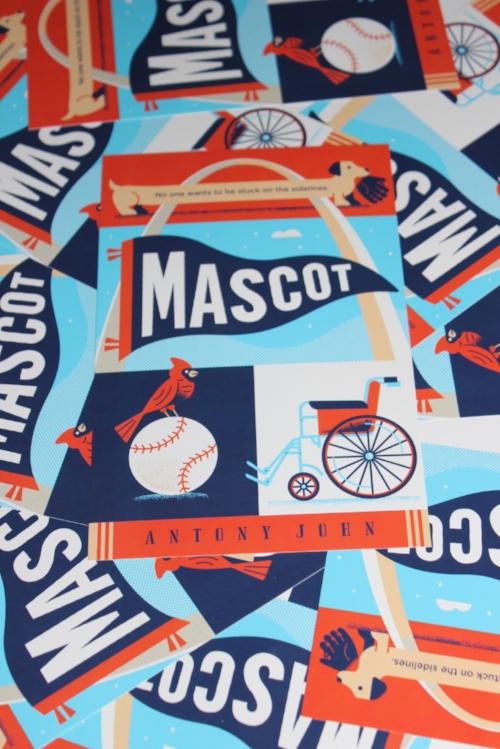 Is your class reading Mascot?
Great! Drop me a line and let's Skype. Visits of up to 30 minutes are completely free.
Would your readers like an autographed copy of the Mascot book cover (in kid-proof card stock, like the ones in this photo)? Just email me or use the contact form and I'll mail one for every kid in your class. Bonus: If you send me your students' names, I'll even personalize them (the book covers, not your students).